Support 4-H, FFA students in County Fair's Virtual Livestock Sale 
It starts Thursday, June 11, at 8 a.m., and goes to Saturday, 8 p.m.
The 2020 Merced County Fair's first-ever Virtual Livestock Sale — supported by Merced Irrigation District (MID) — will take place starting this Thursday, June 11, at 8 a.m. and go until Saturday, June 13 at 8 p.m.
Nearly 500 animals are up for sale, raised by hard-working Merced County 4-H and FFA students. The virtual sale will take place online through StockShowAuctions.com (SSA). 
"We are proud of the hard work and dedication of our 4-H and FFA kids, along with their ability to adjust to a virtual sale – it has truly been outstanding," said Teresa Burrola, CEO of the Merced County Fair. "They have been working tirelessly to promote the sale and their projects to potential buyers and while this year may be different, they are determined to make a sale is stronger than ever! We hope the community turns out to support them – helping to recoup their investment on their animal projects." 
The fair's nonprofit foundation, Friends of the Merced County Fair will cover all sale commissions – so every dollar spent by buyers will go directly to the students. Additionally, the fair has already received $30,000 in add-on bids from local businesses – Dr. J.L. Byerly D.V.M. of Sierra Gateway Veterinary Clinic and Yosemite Farm Credit. 
To gain awareness of the Virtual Livestock Sale, the fair has been featuring different 4-H and FFA chapters that are participating in the sale, highlighting their students. The goal is to continue to showcase the importance of 4-H and FFA programs, the experiences they provide and the hard work of these students. All chapter features can be found at www.mercedcountyfair.com/chapter-features. 
Now more than ever it is important that the community comes together to support these kids – both new and returning buyers! Don't forget you don't have to purchase an animal to participate; buyers can also simply place add-on bids. More details on how to register as a buyer, how the new virtual process will work and to see catalogs for Thursday's sale, please visit www.mercedcountyfair.com/virtual-livestock-sale. 
The Merced County Fair livestock staff will be available to answer questions via phone at (209) 722-1421 or by email at [email protected]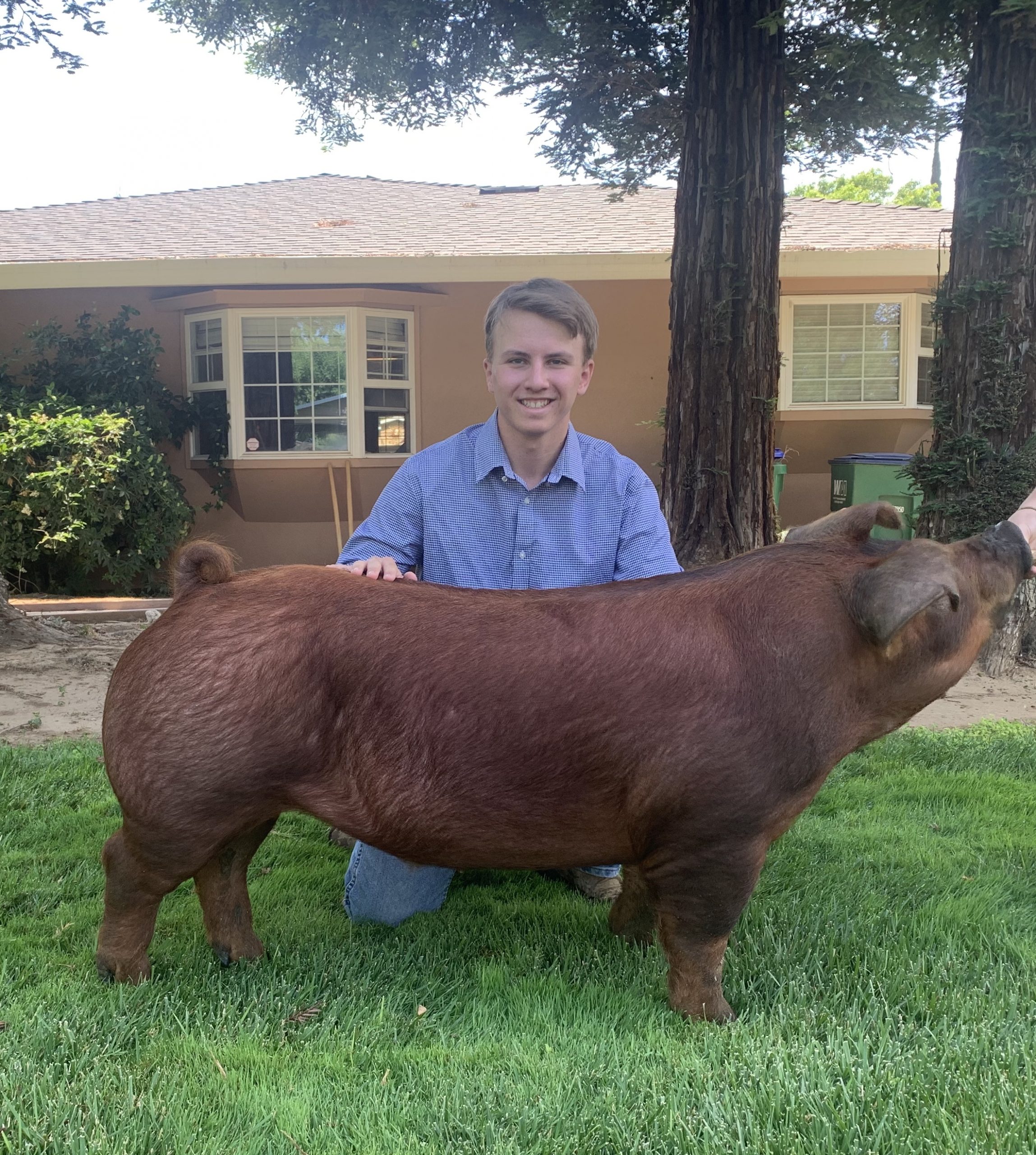 CAMERON IVY
Golden Valley FFA
Cameron is a sophomore in the Golden Valley FFA Chapter, and has shown extreme involvement in our program for the past two years. Despite coming from a non-agricultural background, Cameron came into high school looking to learn everything he could about the agriculture industry. This past year, Cameron served as our Chapter Sentinel, and will be serving this next year as both our Chapter President, as well as the Reporter for the entire Merced/Mariposa FFA Section. He has also shown a strong desire to better himself as a leader, and is working to give all of the members a voice in our organization, as well as to inspire others to pursue a future within our extremely essential industry.
On top of this, he has shown his hard-working qualities by demonstrating how to properly care for his swine projects, as well as shows extreme patience in training them and dealing with their nutritional needs. While he has been showing swine in 4-H a few years prior to being in the FFA, he wasn't quite sure at first if he wanted to take up a career within the agriculture industry. However, after spending a competitive season on our Farm Power and Machinery Career Development Team, he quickly gained a love for agricultural machinery, farming, and was offered a summer job at a local walnut orchard. Since spending his summer in these experiences, he's discovered that he would someday like to manage his own almond and walnut operation, and has set goals for himself to one day achieve this dream.
Cameron's love for agriculture, leadership, and his hard working ethic will continue to allow Cameron to thrive in his life's pursuits, and we look forward to seeing where his journey takes him beyond high school.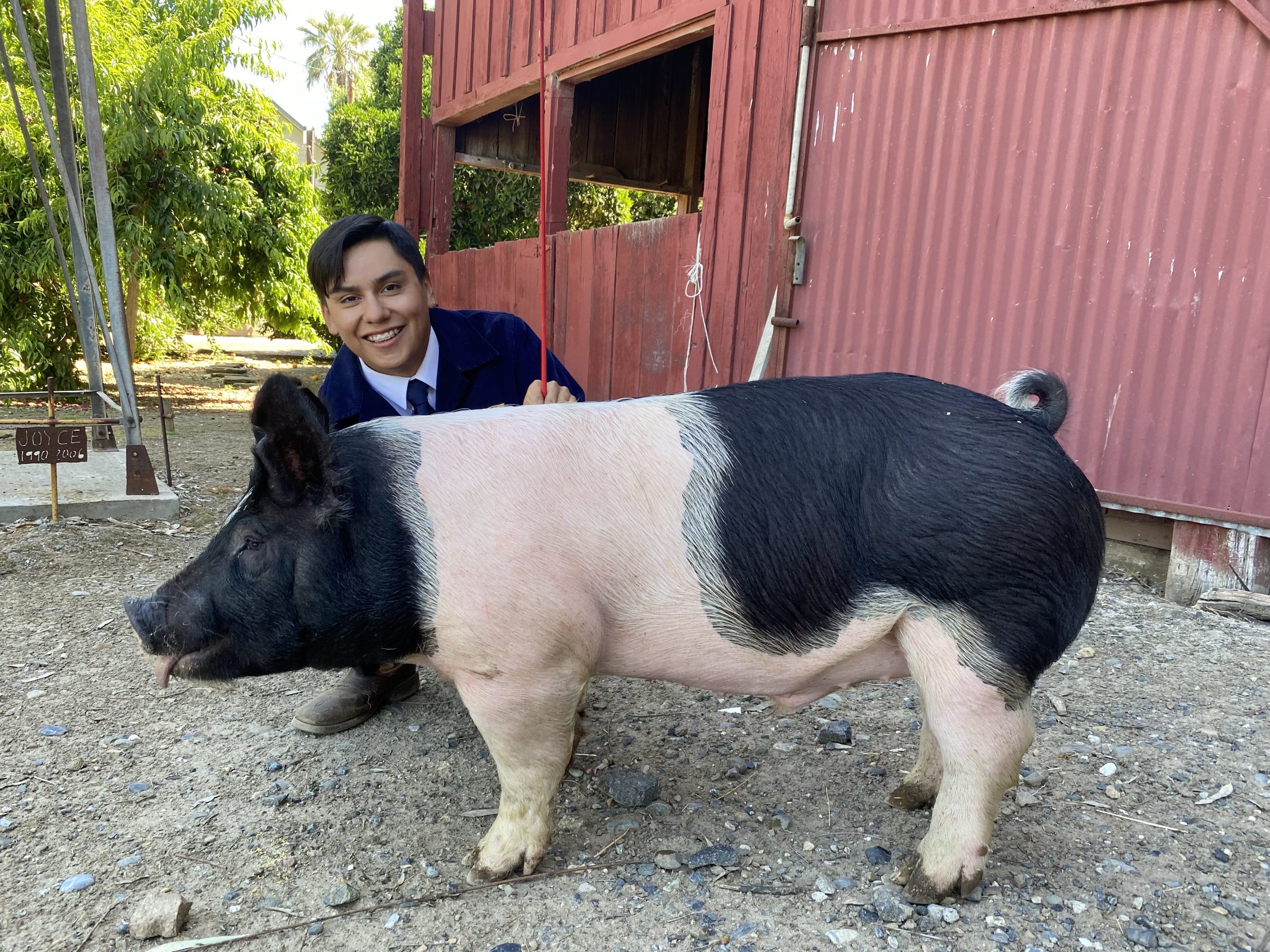 OSCAR TORRES
Merced High FFA
Oscar has been very involved in the Merced FFA Chapter and served as this year's Chapter President. Oscar decided to join FFA when he realized that FFA provided numerous opportunities for all students regardless of their background. Another driving force behind his passion for the FFA is that FFA opened the door to many different career pathways for him by showing him that while farming and ranching is a huge part of agriculture, there is more to the agriculture story. He started showing swine as he was encouraged by his shop teacher to start a livestock SAE and that was the species that the shop teacher advised. This is the third year Oscar raised a swine project for the Merced County Fair. Oscar was fortunate to keep his animal at a local farmers place in Merced County and from the care and dedication to his project that was observed, Oscar was offered a job by that farmer. Oscar's love for the FFA and the experiences that come from raising livestock shines bright.
DYLAN CARDEY
McSwain 4-H
6th Grader at
McSwain School
Dylan runs on the McSwain Cross Country team and is involved in many endeavors through 4-H. His 4-H projects include computer science, archery, communications, goats and rabbits. He serves on the McSwain 4-H Leadership Team as Sergeant at Arms. He recently participated in the first-ever Virtual State Communications Day, winning a gold medal with his speech, "Stand Up for Science." Dylan's future goals are to attend Fresno State and pursue a career in public speaking.
Dylan has been raising rabbits and goats for four years. He has a large Mini-Rex breeding rabbit project and is breeding and showing his rabbits at ARBA shows throughout California. This is his first year raising a meat pen of market rabbits. His meat pen consists of one buck and two does. He has worked hard this year caring for them and keeping them cool in warm weather. He weighs them frequently, adjusting their feed to make sure they are at the optimal weight by sale time.
Dylan has raised a market goat he purchased from his brother, who bred him. He has been involved in the care and management of his goat, Louie since he was a few weeks old. Louie is large and over 100 lbs., but Dylan is tough and determined when handling him. Since participating, 4-H has taught Dylan about setting goals, being focused in your plans and dreaming big to accomplish great things!