Kind Neighbor, a new healthy juice bar, opens in Merced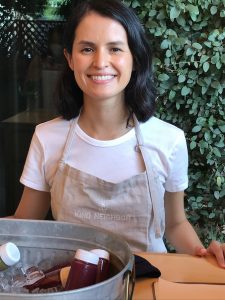 For the last two years, Rocio Gonzalez, a Merced resident, has been planning to start a business — an all natural juice bar.
Her dream came true with the opening of Kind Neighbor.
On Aug. 22, she held a soft opening at 560 W. 18th Street in Merced.
She chose not to have a big grand opening with a party atmosphere due to COVID. At the soft opening, people could either pre-order or order at the location.
Gonzalez gave out a 4 oz. juice for those who signed up to receive her newsletter by email.
For those curious about what an item tasted like, she served it to them on a complimentary basis that day.
Her regular business hours are Monday through Friday from 7 a.m. to 2 p.m.
Describing her business, Gonzalez told the Times, "My mission is to provide healthy and affordable food for the community and hopefully other communities throughout the Central Valley.  All the ingredients I use are natural, raw ingredients, which are not processed.
"I will be making various juices using a cold press juicer.
"The process does not use very much heat so the nutrients are not extracted, and that means people get more of the nutrients in the juice.  The juice can be enjoyed on the spot, but the juices last three to five days so they can also be ordered to go.
"One juice is orange, and it has apple, carrot, orange, cucumber, lemon and ginger;  one is beet, and it has beet, apple, orange, celery, carrot and ginger; one is green and has apple, cucumber, celery, lemon, kale, mint, ginger and wheat grass powder; and one is purple and has apple, purple cabbage, cucumber, lemon, mint and ginger.
"I also have smoothies, smoothie bowls and light breakfast items like oatmeal and chia pudding.
"One of the smoothies is called I Am Unique.  It has pineapple, raspberry, filtered water, coconut butter, turmeric, ginger, dragon fruit powder, and chia seeds.
"Another smoothie is called Taste of Nature and has kale, celery, cucumber, pineapple, frozen mango and coconut butter.
"There is an Horchata Smoothie.  It was inspired by my Mexican culture.  It has dates, banana, cinnamon, almond milk, maca powder and honey.  Maca comes from a root and is supposed to help with energy level.
"Another smoothie is a Mint Chocolate Chip with banana, dates, cacao nibs, mint, Himalayan salt, honey, chlorophyll drops, vanilla plant protein, and almond milk.
"A smoothie bowl is like a smoothie but you can eat it with a spoon.
"On the menu is a traditional acai bowl with acai, banana, strawberry and hemp milk.  The toppings are granola, strawberries and coconut flakes.
"For the green smoothie bowl, the base is spinach, banana, mango and hemp milk.  Toppings are granola, almond butter, cacao nibs and kiwi.
"Chia pudding is made with chia seeds, coconut milk, cinnamon and vanilla extract.  The toppings are berries.
"The oatmeal base is oatmeal and flax seed milk, and it has chia seeds, flax seeds, cinnamon, maca powder, maple syrup, banana and blueberries.
"I plan to add to the menu along the way.
"I see myself here for the next year, but eventually when the COVID cases settle down I will find a permanent location.
"Besides the goal of providing healthy and affordable food for the community, I have the goal of providing health and wellness education.
"This goal came about because I wanted to take the health and wellness path after seeing my parents struggle with health issues and eventually pass away from the diseases they had.
"I felt they could have lived their retirement years in a much healthier way if they had known more about health.
"I was inspired to start a healthy juice bar and provide health and wellness education.  I feel that if people know how food affects their bodies, then they are more likely to want to eat more healthy foods.
"I plan on doing some health and wellness education at the juice bar, but most of it will be virtual learning on a website through Zoom, and I will provide a link when it is set up.
"I will teach people how to prepare more home-cooked meals without using processed foods.  I will teach the impact of certain foods on the body.
"For now, customers can follow Kind Neighbor on social media.  On Instagram, the handle is Kind.Neighbor.  For Facebook, they can search Kind Neighbor.website, or google kindneighborjuicebar.com.
"I looked at my community and realized there was a lack of healthy eating options.  "In Merced, there is more access to fast food restaurants.
"To encourage people to eat healthier foods, I had to look at factors such as emotional issues.  Our emotions affect the way we choose a food.  If someone is sad, they are more prone to want sweet foods.  But if we have knowledge about what food does to our bodies, most of the time we will choose foods that will help us be more productive and improve our moods.  The way we take care of ourselves today has an impact on how we will feel in the future.
"The way I chose my menu items is I just thought of things that I liked, and that's where I got my inspiration.  I like mint chocolate chip so I thought of a way to put a smoothie together.  I would play around with ingredients in the kitchen and if I liked it, I would put it on the menu.  In my recipes, there is no added sugar, and there are no additives.
"I started thinking about how people would heal in the past, and I knew they had to have used natural remedies.  So I began looking for natural remedies to heal myself from colds, stomach aches, or whatever it was.  My interest in natural remedies is another thing that inspired me to start an all natural juice bar."