Carnitas Barajas owner named grand marshal of Planada Day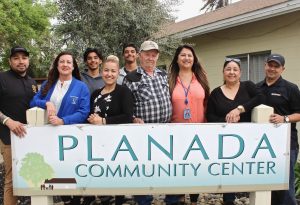 For more than 100 years, the unincorporated town of Planada has been proudly celebrating its community with a festival called Planada Community Day.
The purpose is to simply bring together the residents in a setting of fellowship and friendship along with fun, family-oriented activities, folkloric dancing, and the serving of delicious deep-pit BBQ beef sandwiches. Planada Day 2019 will be held on Saturday, May 11, from 8 a.m. to 3 p.m., at Houlihan Park. The traditional street parade starts at 10 a.m.
Underlying the whole event is the recognition of a local individual that is selected as the grand marshal of the event due to his/her contributions to the community. This year that individual is Marcelino Barajas, a local business owner that is well known and appreciated dearly by the local residents of Planada.
Barajas is a humble, yet proud, hard working father, husband, and business owner of Carnitas Barajas. As a native of Mexico, from a town called Lourdes in the state of Michoacan, this 75-year-old American has a philosophy that through hard work anything is possible.
He has carried this attitude throughout his life, and as a successful local business owner, he has instilled this belief into his family of six grown children; some of which work with him at his business, while others have gone onto other works of life successfully.
Teresa and Herminia (known as "Minnie"), two of his daughters say of their father, "He has always told us that nothing is difficult and that everything is possible. … We have always seen him work hard and he has instilled that hard work ethic in all of us with his encouragement and support".
As a young boy and during his youth in Mexico, Barajas had always worked with others in the food industry. He developed a keen sense for business and eventually became an ice cream vendor with five ice cream bicycle street carts, plus a grocery store.
In 1979, when he came to Planada, Barajas first worked as a cook in the meat department of Broadway Market, a local grocery store of over 50 years owned by local resident John Adame. The combination of his good cooking, and his welcoming, friendly customer service at Broadway Market, helped the business become increasingly successful during his 16 years working there. He became known for his "carnitas" — the braised pork that's popular in Mexican and Tex-Mex cuisine.
Barajas subsequently decided to move on and establish his own business and opened up a deli space inside another local grocery store in Planada, now known as Mercado Latino. After 4 years, the former owner increased his rent substantially and Barajas decided it was time to open up his own place of business.
Christina Nuñez, a long time, local resident of Planada, has fond memories knowing Barajas throughout the years. She was instrumental in assisting him with immigration paperwork for his family in coming to the United States, and he has forever been grateful to her.
Christina says, "Mr. Marcelino is one of the friendliest, most respected, dignified people I know in Planada. He gets respect because he gives respect."
Barajas has the same attitude with the community of Planada as he does with his business — an attitude of gratitude, caring, giving, compassion and consideration for others. He appreciates the opportunity he has been given by the residents of Planada through their support and their loyal patronage. He treats people with respect and dignity and therefore he is treated the same in return. He believes that anyone can succeed in life if they just work hard at it. He believes in giving back to his community, and however he can help with a sponsorship or a donation, he is willing to lend his support.
Barajas has been there for the community of Planada. When the forest fires were raging in nearby communities, Barajas was there helping by donating food to the firefighters and victims of the fire. When Planada experienced some flooding a few years ago, Marcelino was there helping by donating food to any volunteers or people in need.
"We work with everybody, and when I give, I don't expect anything in return," Barajas says. "I love my people and I want them to know that as long as I am willing and able, I am here to help my community."
Barajas and his wife Teresa have been married for 50 years, and they have six grown children, and 14 grandchildren.
Barajas believes in the American dream and is very thankful that he has had the opportunity to succeed in his business.
He hopes everyone is able to come out and support the community of Planada on Saturday, May 11, for its great celebration.