Young Atwater sprinter headed for National Junior Olympics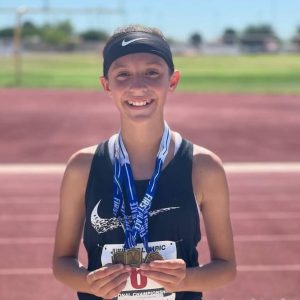 At first glance, Emily Gallegos of Atwater appears like your typical 12-year-old about to enter the 7th grade.
But when it comes to track and field, this Mitchell School student is in a class of her own.
Gallegos is fast for her age. Very fast.
She just finished competing at the Junior Olympic Regional Championships two weeks ago, winning Gold in the 100-meter, 200-meter, and 400-meter dash.
Gallegos is now qualified to compete at the National Junior Olympics next week, July 26, at Sacramento State.
Born in Turlock and raised in Atwater, Gallegos is a determined pre-teen who loves running and anything about sports.
"I started track in the beginning of April this year," she said. "We always knew that I was fast because I played soccer, so I decided to try out for the Shaffer track meet."
Gallegos has been competitively playing soccer for Merced United since 2020, but has been playing the sport since she was eight years old. Earlier this year, she made the conscious decision to put her speed to the test by entering the Atwater City Track Meet — a yearly competition between city elementary schools that features a number of competitive track events. Gallegos was among the Top Three placing students who then moved on to compete in the Merced County Junior Olympics that took place in April at Golden Valley High School.
After winning big at Golden Valley, Gallegos participated in the Valley Youth Championship that featured competitors from all over the Central Valley, from Kern County all the way up to Merced County.
Sacramento State is the next stop for Gallegos as she gets ready to compete for the USATF — the United States National Junior Olympic Track and Field Championships later this month.
"I feel pretty good and am trying to go into my next race really confident and see how I place," Gallegos told the Times. "I'm really excited."
Her excitement is a combination of the disciplined training and love for running that she has. Gallegos has consistently been playing soccer through her track competitions and is not letting anything stand in her way of competing.
"Monday I do track and soccer. Tuesday I do soccer. Wednesday I do track. Thursday I do  soccer. And Friday is my off day… Sometimes I have soccer games on the weekend, and other times I have track meets, so I have to make time for all of that."
Gallegos is persistent in wanting to continue both her disciplines in track and soccer. Her dream is to one day play and run for UCLA through a sports scholarship.
"Any expectation her dad and I have ever thought that we could set for her, she has always blown it away," said Amanda Gallegos, Emily's mother "She's a straight-A student and has a really great work ethic. Just to know that some kids start running track at the age of seven competitively, and the fact that she just started racing in April is mind boggling to me."
Originally, her mother hoped Emily would have an interest in dancing or cheerleading, just as she had in her youth.
"She would come home and always want to play with the boys, wanting to play basketball or soccer. And that's your job as a parent. You are here to let them guide you and not the other way around, and so we put her in soccer, and she scored like five goals her first game. One thing led to another and now everything she does she excels at."
Gallegos is more than ready for her next challenge, and explains that in order to prepare for her race beforehand, she envisions herself running the race in her mind.
"I love everything about it," she said. "I just love running. It makes me feel pretty good."