Supervisors honor Barbara Levey, 'Assessor-Clerk-Recorder-R.O.V.'
Leaders name new leader to take on multi-role position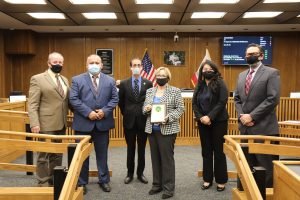 Barbara Levey, who serves as the Assessor-Clerk-Recorder and Registrar of Voters for Merced County, was honored for her service to the county and its residents at Tuesday's Board of Supervisor's meeting.
At the end of next week, Levey is stepping down from her various roles with the county to enjoy retirement with her family. The farewell comes after more than 33 years of service, including the past eight years as the leader with the aforementioned multi-role title. During her long career, she has also worked in every position at the Assessor's Office.
She received unanimous praise from the board and staff members for her "patience, consistency, impartiality and professionalism" — especially this past year as she led the county's election process through a historic year marked by the COVID-19 pandemic, changes to elections laws and procedures, and massive voter turnout for both the primary in March and the general in November.
In contrast to turmoil on the national level regarding the Nov. 3 Presidential Election, Levey certified the county's local elections on Nov. 25. Total turnout for the election was 78.72 percent. This turnout, as anticipated, is the highest turnout for a Merced
County election. The number of registered voters for the November election, at 117,413, is also a record for the county.
"I have tried to give it my all," Levey said. "It's been great. I have great people as you know, and as you can see. It's time for me to focus on family obligations and I will be doing that. Hopefully, I leave the offices and the public we serve in a better place than when I started."
Also Tuesday, board members voted unanimously to appoint Matthew May as the new Assessor-Clerk-Recorder for the county. Since 2013, May had been serving as the assistant to the top position held by Levey.
May has 23 years of experience with the Assessor's Office. He is a Cal Poly graduate with a degree in ag business, finance and appraising. He worked five years as a licensed appraiser before coming to the county.
"Congratulations," Supervisor Scott Silveira told May after the vote. "You are going to have some big shoes to fill coming behind Barbara, but I think that she has prepared you well to fill those shoes."