Merced College to host Field of Honor by Sunrise Rotary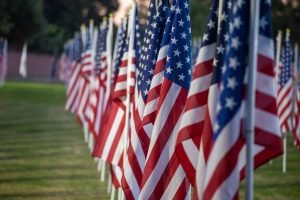 The 11th annual Merced Sunrise Rotary Field of Honor — a display of American flags honoring the selfless work of veterans, active military and first responders — will be installed on the Merced College front lawn from Nov. 4-11.
This Field of Honor, replicated in cities across America, is a partnership between Merced Sunrise Rotary, Merced College, and the 1st Lt. Peter J. Gallo Veterans Resource Center (VRC) on campus.
After erecting 2,022 flags in 2022, organizers hope to display at least 2,023 flags this year.
"I think Merced has become more defined by its Field of Honor," said Sunrise Rotary President Regina Cherf, herself a 38-year veteran of the Air Force. "People come here just to see it. It's a destination now."
Anyone can purchase a flag to honor a veteran, military member or first responder, living or deceased, active or retired, regardless of where they served or where they now live. The flag-and-pole sets cost $35 each and can be reused and displayed each subsequent year for $10.
The 3-by-5-foot flags sit atop 8-foot poles with a card identifying each honoree. People can walk through the display every day from 1-6 p.m., and information booth volunteers can guide visitors to specific flags.
The week kicks off in earnest with the Run for the Fallen, a 5K Run/Walk or 10K starting at 8:45 a.m. on Nov. 5. The official opening ceremonies start at 2 p.m. with music from the Merced Children's Holiday Choir led by UC Merced music lecturer Jenni Samuelson.
Sunrise Rotary members and local boy scouts will also stage a Flag Retirement ceremony, for tattered or torn flags, on Nov. 9 at 6:30 p.m.
The closing ceremonies, anchored by a performance from the Merced Community Choir led by Jenni Samuelseon, will be held at the Field of Honor on Veterans Day, Nov. 11, at 11 a.m. Participants may pick up their flags as the field is taken down on Nov. 12.
"The partnership with Sunrise Rotary shows that Merced College is committed to our veterans, active duty and first responders," said Dustin Thompson, Student Services Coordinator at the Veterans Resource Center. "We are, in fact, a community college — emphasis on 'community.'"
If the event has ever moved you, you can volunteer to help set up or take down the display.
The annual event was designed as a service project, never to turn a profit. It accidentally began making money after Sunrise Rotary started soliciting sponsors to cover costs.
Now the profits do even more good. They cover grants to local groups to pay for things like uniforms for local Explorers or scholarships, and for community initiatives like the effort to rename M Street as Veterans Boulevard. This year, Sunrise Rotary will also sell a $25 commemorative T-shirt.
The college will also host roughly 1,000 Merced City Schools 8th-graders from Cruickshank, Hoover, Rivera and Tenaya middle schools to see the display. After making the short trip in buses sponsored by the Merced School Employees Federal Credit Union, Thompson takes them on tours of the campus — a first for many students — and then visit the Field of Honor.
Cherf encourages everyone to see the field and contemplate the lives each flag represents.
"My first time at the Field of Honor, I saw the sunset behind the field, with the flags waving, and felt so much love," she said. "Each flag represents a life and a family. It's magical."
For information, visit online at: mercedfieldofhonor.org.