Making way for the dam by relocating the railroad
MID: CELEBRATING 100 YEARS
1924 — 1926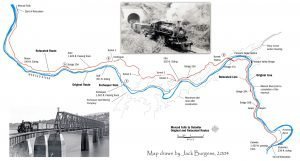 The location for the Exchequer Dam was ideal, but the Yosemite Valley Railroad was operating through the whole length of the reservoir that made it necessary to relocate 17 miles of the railroad at a cost of over $3 million — a big pricetag in the early 1920s.
Bids on the relocation of the railroad were opened by the Merced Irrigation District on Sept. 4, 1923, but the work was not let until nearly a year later. On Aug. 12, 1924, F. Rolandi signed a contract with the District for reconstruction of 17 miles of the Yosemite Valley Railroad not including the five bridges. On Nov. 21, 1924, Davis, Heller & Pearce signed the contract with the District for construction of the concrete piers and abutments for the five railroad bridges. On Dec. 9, 1924, the American Bridge Company signed a contract with the District for the designing, furnishing and erecting the steel work of five railroad bridges.
The railroad relocation was completed in 1926 with four concrete tunnels (Tunnel No.1 – pictured in graphic) and five steel bridges. Bridge No.3 – Barrett Bridge (pictured in graphic), which carried the railroad across the reservoir, was 1,600 feet long and the base of rail was 236 feet above low water. It was the longest and highest bridge in the Western United States.
Among many notable passengers, the railroad carried two presidents: William Howard Taft in October, 1909 and Franklin Roosevelt on July 15, 1938.
In the mid-1940s floods and landslides damaged nearly 30 miles of the railway in Merced Canyon.
Loss of freight demand and increased competition from vehicle traffic on Highway 140 led to the eventual demise of the railroad. The last regularly scheduled train ran on August 24, 1945.
Sections of the re-routed railbed were again put under water when Exchequer Dam was expanded in the 1960s. Several tunnels for the railroad still remain under Lake McClure, and are visible when the water level drops during drought periods. A few other tunnels in Merced Canyon are now used for road traffic.
Tourists can still see one of the few surviving pieces of rolling stock, Caboose No. 15, located at El Portal, along the entrance to Yosemite National Park. Another piece, Locomotive 29, was sold to a Mexican railroad and put on static display in Veracruz, Mexico!
The Times is publishing historical photos and information about the development of irrigation systems, and the growth of the Merced Irrigation District. The district and the Merced County Historical Society are planning a community celebration and exhibit in recognition of MID's 100-year Anniversary on Nov. 7. The date coincides with the formation of the District: MID was established in November 1919. More information can be found online at: MIDisThere.com or mercedmuseum.org.
Also, if you have a story, a photo or an artifact related to the history of Merced Irrigation District, the organizers of the exhibit want to know about it. Contact Museum Director Sarah Lim at (209) 723-2401 or by email at: [email protected]