Downtown Merced hot dog vendor remains upbeat despite pandemic, and a shattered local economy
'I wish I had roller skates,' he says about drive-by orders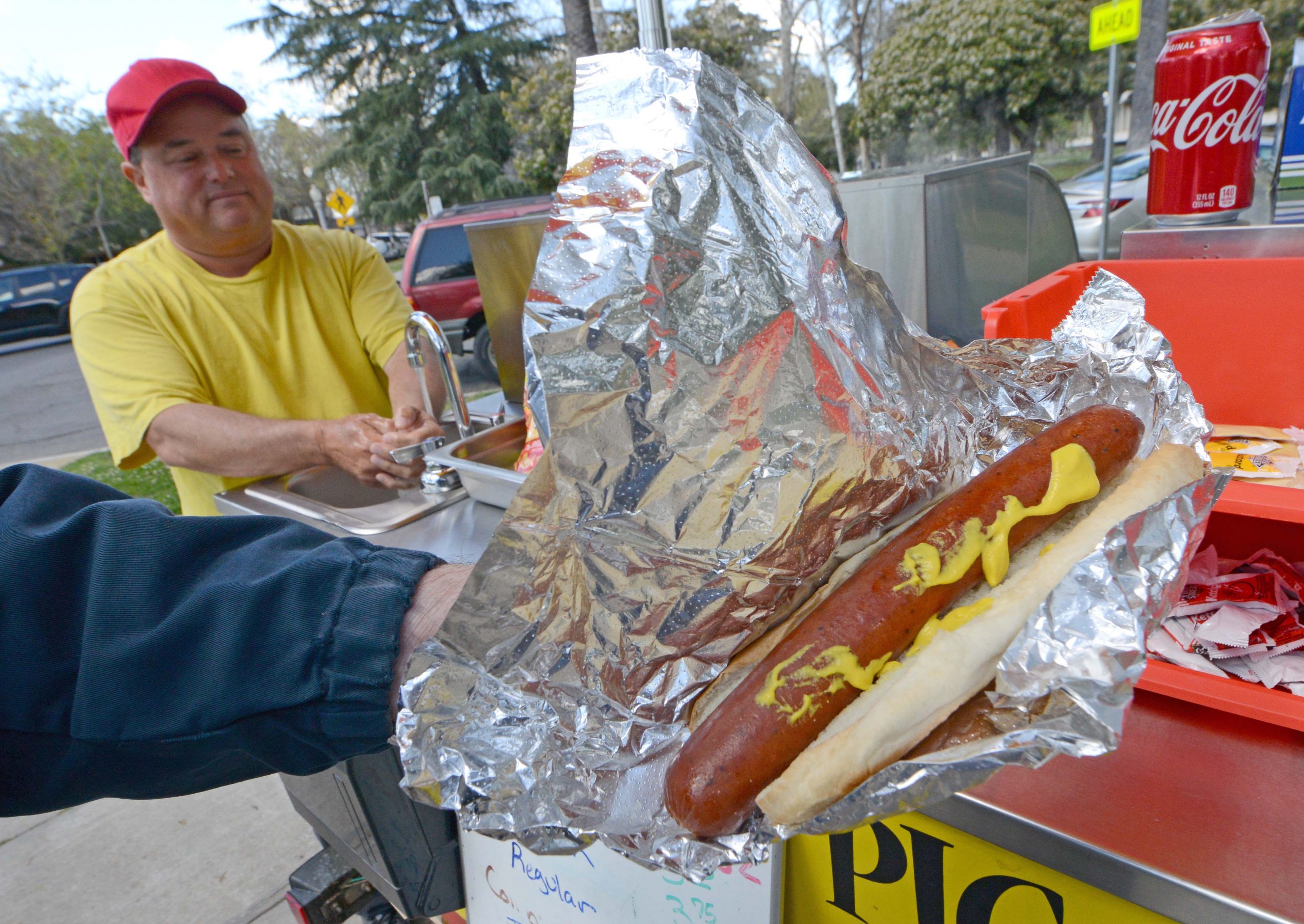 It's painfully clear how local small business owners in the food and beverage industry have been hit hard by the coronavirus outbreak.
From quaint coffee houses to popular sit-down restaurants, food service has been reduced to mainly take-out and delivery orders. Some establishments have been forced to shut down.
Certain sections of Main Street look like a ghost town.
Despite all the despair, the Times found one particular food vendor, who can't help but smile, while he stands undaunted, under a bright red and yellow umbrella, at the corner of 20th and N streets, just inside Courthouse Park.
He goes by the name of A.J. Plane, and he speaks with an attitude that's about as All-American as the hot dogs he steams.
"I like being my own boss," Plane says with enthusiasm, "and I see opportunity here [in Merced]."
Those familiar, entrepreneurial words take on new meaning as the country faces a collapsing economy and massive government bailouts.
Plane says daily business at his hot dog stand is down 50 percent due to the pandemic and stay-at-home orders. He is allowed to keep cooking hot dogs for hungry people at his outdoor location as long as social distancing and gathering restrictions are adhered to. He says those rules haven't been a problem.
"Normally, if I have 15 customers in line, I'm doing the happy dance," he says, "but my average is about one or two people at a time."
With about 34 years of experience in the restaurant sector, Plane moved from San Luis Obispo to Merced specifically to start his small business.
He says he found Merced County officials the most helpful, and worked with them to acquire a food cart that was entirely up to code.
"I'm the only legal 'advanced food cart' in the entire county," Plane says proudly.
That's the result of investing about $8,500 for a custom cart manufactured in Oregon.
It has two burners connected to propane tanks, a hot dog steamer, a refrigerator powered by a generator, a sink with hot water for hand washing, separated paper towels and room for condiments, among other details. Even the umbrella above the cart is required by code to protect the cooking area from above.
Plane started selling hot dogs a little more than a year ago, and he says he lost money at first. He set up shop at the local flea market and area farmers markets, but this was at a disadvantage because he was considered the "new guy on the block. "
"I was at the end of the line," he says with a chuckle, "after the taco trucks, the aguas frescos, the churros, and all the other vendors. By the time the people got to me, they were already full."
Soon, Plane was coveting another spot — a small stretch of pavement meant for a mobile vendor in the county-operated Courthouse Park. It's right off the sidewalk across from many downtown businesses, and in front of the beauty of the old Courthouse. The park scene makes it a very attractive location for those wanting to grab a dog and enjoy the outdoors.
Plane said he worked with the county for six months and later received approval from the Board of Supervisors for the location contract.
"I was like 'whoo hoo!'" Plane says with his hands in the air. "That's when I started to make money."
He says the business has a low-overhead — just himself, fuel and products to worry about — and he hands over 10 percent of his sales to the county coffers.
It's perfect for drive-by and walk-by service, or for people who are already in the park.
"I wish I had roller skates," Plane says with a laugh. "Normally, this is a place where people will socialize. I get people from the nearby office buildings. The county court buildings and the Sheriff's Department is also nearby. The sheriff has stopped by, and so have deputies and district attorneys."
Plane sells three types of all-beef hot dogs — Regular, Jumbo and Polish. The most popular is the quarter-pound Jumbo at $3.50. He carefully steams each dog he sells, and uses a thermometer to make sure of their readiness. Meat that has been "on too long," according to Plane, is considered a "doggy dog" and he won't sell it. There's also chips, soda and water for sale. And he accepts credit and debit cards.
When asked about the future, Plane believes the current health crisis will calm down, and then he can start working on his next big plan: expanding to a "full mobile kitchen trailer."
"It would be a larger trailer that I could use to actually cook food — chili cheese for the hot dogs, meat for tacos — whatever I want really."
But for now, he's still got the cart which has a name, by the way: Piggiez Place.
"My friend's wife named it," Plane says.
He laughs at the thought, and adds: "It was named long before I knew I would be located near the Sheriff's Department. … It was a happy accident … Luckily they don't seem to mind."
Piggiez Place is open at the corner of 20th and N streets, Monday through Friday, from 9 a.m. to 5 p.m., unless it's a rainy day when the cart is unable to be used.