De Anda returns for Dist. 2 race to bring civility back to Merced City Council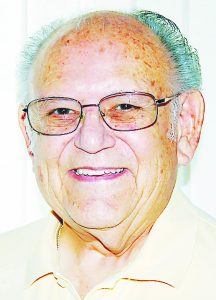 The race for the District 2 seat on the Merced City Council, and the big chunk of South Merced that comes with it, officially became a two-person competition recently as former Merced Mayor Mike Murphy gave his blessing to Ronnie De Anda, a long-time resident who is now throwing his hat in the ring for a second time.
"This year we're going to take it," De Anda said, referencing his previous campaign in 2018 that saw him garner a significant number of votes despite being a write-in candidate. "Even though I lost, my numbers were very decent."
De Anda is once again running on his record of citizen advocacy for south Merced, which includes his work with Neighbors United for a Better South Merced and stints on the city's Planning Commission and Redistricting Committee.
The 81-year-old retired mailman grew up in the district, went to the neighborhood schools, and eventually made a career out of walking all the neighborhood streets delivering letters and packages. In more recent years, he is particularly proud of grassroots efforts he has played a role in, including the installation of a much-needed, four-way stop at Childs Avenue and R Street and the reopening of a police substation at McNamara Park — issues which had long rankled residents of south Merced.
"I can get things done," he said. "I got them done as a private citizen."
At a recent campaign kick off event, Murphy introduced De Anda and praised his "passion" for south Merced before foreshadowing what could prove to be a tough election. De Anda will face incumbent Fernando Echevarria, who is running for re-election after  a first term in office.
The two had faced off before in the 2018 election. Echevarria — who moved to Merced after an unsuccessful 2014 campaign for a seat on the Atwater City Council — ran "unopposed" for the District 2 seat in Merced on the 2018 ballot. De Anda entered the race, but he did so late as a write-in candidate. Echevarria received 783 votes in the win. Voter turnout to decide the district contest was 47 percent (or more than half of the registered voters did not participate). There were also 367 "undervotes" counted.
After being elected Echevarria became known for being outspoken from the dais and in public. In 2020, all the other members of the City Council voted to censure Echevarria for violating the city's code of conduct after a series of incidents marked by unsettling statements and behavior in public during the summer of protests over the death of George Floyd.
Recently, De Anda and supporters held a campaign kickoff event at Diego Rivera Park on P Street and 10th Street. The gathering was more reminiscent of a family barbecue than a campaign announcement. Supporters laid out lawn chairs next to the playground and residents of a nearby house sat in their backyard and watched the proceedings.
De Anda began his speech by praising firefighters, a handful of whom were in attendance. It was also a nod to his support for Measure C, a local half-cent sales tax meant to provide funding for hiring more police officers and firefighters. The tax is set to expire in 2026. A plan to put it on the ballot for reapproval this November is being considered in the City Council, where it has been the subject of intense debate in recent months. A faction of the council members, including Echevarria, voted NO on that plan.
De Anda has been critical of Echevarria's tenure on the Council, at times accusing him of being disrespectful and making promises that he doesn't keep. He singled out his opponent for a long-standing push to bring a full-service grocery store near Childs Avenue, which has yet to materialize.
"He's been there for four years … and it still hasn't happened yet," he said in a recent interview.
De Anda said he's running on a platform of bringing civility back to the City Council, which has been bitterly divided over a range of issues recently. But he has been adamant about not making campaign promises, preferring instead to pledge to voters that he will push as hard as he can for the district.
"I will not make promises [when] you can't keep them," he said.
Politics aside, De Anda briefly outlined the issues he planned on addressing if elected. They included bringing a new urgent care health center to the district, addressing the housing crisis, as well as delivering on the efforts to attract a full-service grocery store to the South side.
The candidate is also racking up an impressive list of endorsements, including: the Merced Boosters, the Committee For The Betterment Of Merced County, Agrecom, Inc., TransCounty Title Company, Kathleen Crookham, and the Merced City Firefighters Political Action Committee, among others.