Annual Education Report reveals shift in approach to learning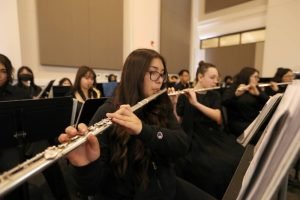 Teachers as "facilitators of learning."
Students away from desks and teaming up at white boards to solve problems.
Expanded transitional kindergarten to 4-year-olds.
A spotlight on visual and performing arts.
Support for the "whole child."
Big investment in professional development, student scholarships and facilities — including some more Office of Education real estate in downtown Merced.
And all of this in a new, post-pandemic world of education.
These are the visions put forth in the 2022 Merced County Schools Annual Education Report.
More than 150 education leaders, partners and community members from across the region gathered for the unveiling of the report during a luncheon hosted by the Merced County Office of Education (MCOE) on Monday. The event was held at MCOE's spacious Downtown Center, also known as the historic Mondo Building across the street from Bob Hart Square.
"In this report," MCOE Superintendent Dr. Steve Tietjen told the audience, "you'll learn about the many innovative strategies and approaches that help promote engaging instruction in a post-isolation era after covid, and the educators who are implementing these strategies to help reframe how students are able to engage in a classroom of the 21st century."
Monday's presentation highlighted MCOE's Continuous Improvement program which provides professional development from strategy coaches who are embedded in classrooms along with teachers and students.
"The benefits of this model is that teachers are more likely to try a new strategy, to implement that strategy with quality, and consequently that leads to improved student outcomes — all while keeping teachers in the classroom so we are not pulling them away from that valuable instructional time," said Laura Andrews, the program director.
She said the impacts of COVID-19 and the isolation that many students experienced reinforced the idea that "learning really is a social process," and provided educators with an opportunity to change their approach.
"We have seen huge advances in technology," Andrews said, "and the speed of communication and information means we need to redesign how our classrooms work in order to better support our students and whole child development. …
"The role of a teacher has changed to one from the giver of knowledge to a facilitator of learning, and students are really in charge of how they learn and how they get to tackle problems."
Andrews said her math team is the largest part of the coaching-model program, doubling in size over the past few years.
Christy Lobao, the superintendent of the Atwater Elementary School District, said the strategy is creating change in math classes.
"Before you would always see students thinking, 'OK well maybe I just can't do it,' or 'Maybe I need the teacher to show me how to do it.' And now they are courageous enough to step up to their white boards and say: 'How are we going to tackle this problem? What can we do? Let's work together." And the teacher is there as a coach, and helping guide them through that learning."
Other teachers who commented through a video portion of Monday's gathering credited a book being utilized in the program — "Building Thinking Classrooms in Mathematics" by Peter Liljedahl.
Another emphasis coaches and teachers are focusing in on is the idea of supporting the "whole child." The approach prioritizes the full scope of child development, including social, emotional, cognitive and academic, as well as physical and mental health. In order to reach their full potential, local educators say, students need access to safe and welcoming learning environments and rich learning experiences.
Said Andrews, "Some of the initial data that we are collecting in classrooms tells us that teachers are implementing the strategies, and we are eager to see how that will translate into student achievement."
The Office of Education continues to look at other ways to engage students, according to Tietjen, and that means a stronger emphasis on visual and performing arts.
"Although sports are a big draw for some students, not all children go to school for sports," Tietjen said. "They need to have an experience with music or art to continue to engage them and cause them to want to come to school all the way through senior in high school."
He said MCOE is working to bring more programs and more grants to support the arts. To bring the arts message home, the Winton Middle School Symphonic Band was invited to Monday's gathering and performed several popular song tributes for the audience.
Other MCOE programs praised during the event included a grant-funded initiative to support early learners in language development and to increase the number of bilingual, or even multilingual students across the district.
Tietjen also revealed a new "student wellness" partnership with Merced County Behavioral Health and Recovery Services that has resulted in MCOE acquiring the two-story Thorington Building on the corner of Main and N streets in downtown Merced.
The new location — MCOE's second major purchase of a downtown building in recent years — will be used as a "one-stop shop for families in need."
Behavioral Health has received a $5 million operational grant in ongoing money to provide mental health resiliency services for teens of Merced County. MCOE will be a required partner in that operation, but the agency will also be establishing a new Family Resource Center and relocating its Workforce Investment Office in the same building.
As expected, Tietjen also gave an update on the Virginia Smith Trust land development plan near UC Merced and scholarship expansion that has been making strides in recent months.
The 2021-22 school year saw the largest growth in VST scholarships to date, with 83 awarded, 17 of which included honors scholarships valued at $20,000 over four years, and 197 grants valued at $500 to high school seniors who qualify for a four-year college. Between both awards the VST committed $590,000 to Merced-area students, with plans to expand scholarship eligibility to all students in Merced County.
Meanwhile, the project to further develop VST land near the UC, and establish a "University Community" continues to move forward with the help of local governments, including the City of Merced which plans to annex the area into the city limits.
Like last year, Superintendent Tietjen praised this region's overall graduation rate — 92 percent — but he did not delve into the details of school test score comparisons and the School Accountability System. Performance on these measures is reported through the California School Dashboard. The most recent update to the Dashboard resets the previous baseline since some student testing was suspended or optional during the pandemic. However, Tietjen said parents and interested residents can view the information online at: caschooldashboard.org.
At last count, the county Office of Education serves 59,066 students throughout the county in 107 schools in 20 school districts. Students with disabilities account for 11.5 percent of all students. English learner students account for 25.3 percent. 76.8 percent are considered socioeconomically disadvantaged students, and 2.6 percent are under the classification of homeless or foster youth. The 2019-20 4-year and community college-going rate was at 58.8 percent. A wide majority of students are Hispanic/Latino, at 75.7 percent.
Digital copies of the 2022 Annual Education Report as well as video presentations can be found online at: mcoe.org/annualreport. To request hard copies of the report for your school or office, contact [email protected].